Sandhills Global Market Reports Show Mix of Value Trends at Year End Across Farm Equipment, Heavy Machinery, and Heavy-Duty Truck Markets
LINCOLN, Nebraska — January 6, 2023
The varied equipment value trends that began in November across Sandhills Global marketplaces continued through December. Used farm equipment asking and auction values remained elevated, surpassing the all-time highs reached just a month before. Heavy-duty truck values persisted in the opposite direction, with asking values down for a seventh consecutive month. Heavy-duty construction equipment value trends hovered between these extremes with both asking and auction values trending sideways in December.
The key metric used in all of Sandhills' market reports is the Sandhills Equipment Value Index (EVI). Buyers and sellers can use the information in the Sandhills EVI to monitor equipment markets and maximize returns on acquisition, liquidation, and related business decisions. The Sandhills EVI data include equipment available in auction and retail markets, as well as model year equipment actively in use. Regional EVI data is available for the United States (and key geographic regions within) and Canada, allowing Sandhills to reflect machine values by location.
Takeaways
Sandhills market reports highlight the most significant changes in Sandhills' used farm machinery, heavy-duty truck, and construction equipment markets. Each report includes detailed analysis and charts that help readers visualize the data. The newest reports examine year-over-year variance in detail, noting changes from December 2021 to December 2022 with an eye to inventory, asking value, and auction value trends.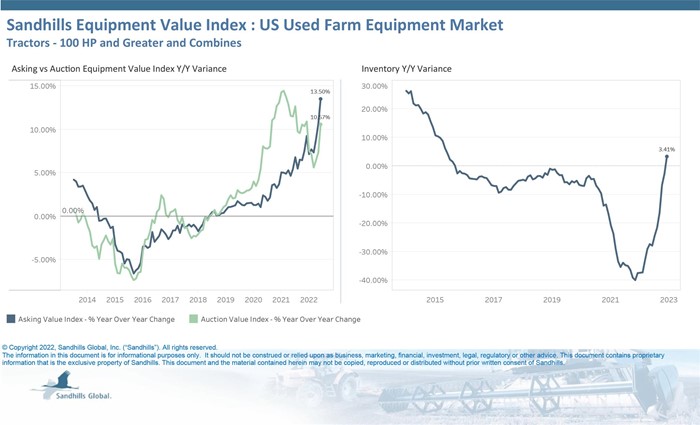 U.S. Used Farm Equipment
After two years of nearly continuous inventory declines, the farm equipment market rebounded strongly in 2022, and inventory levels were up 6.41% month to month and 3.41% YOY in December.
The Sandhills EVI indicates used farm equipment asking values were up 4.26% M/M and 13.5% YOY. Upward value trends have continued in spite of the long-term inventory gains.
Auction values rose 5.03% M/M and increased 10.57% YOY in December. Similar to the previous month's reports, tractors with 300 horsepower or greater were the major driver in auction value increases.
U.S. Used Compact and Utility Tractors
Inventory for used tractors under 100 HP, which include compact and utility tractors, increased 59.97% YOY in December. The increases throughout 2022 represent a massive rebound from the record inventory lows of 2021.
Consecutive months of used inventory increases have yet to impact asking values in this category, which were up 2.35% M/M and 7.78% YOY in December.
December 2022 auction values were nearly even with December 2021, and increased 2.6% M/M.
U.S. Used Heavy-Duty Trucks
Inventory levels for used heavy-duty trucks continued to accelerate in December, increasing 8.79% M/M and 80.29% YOY.
Rising used inventory levels contributed strongly to heavy-duty truck asking value declines, which dropped 2.34% M/M. Asking values are still 3.49% higher than December 2021. 
Auction values for heavy-duty trucks have been in decline since April 2022, and in December decreased 5.49% M/M and 13.05% YOY.
U.S. Used Semitrailers
The Sandhills EVI shows that the used semitrailer inventory, which includes dry van, reefer, flatbed, and drop-deck semitrailers, increased 2.62% M/M; upward trends were also seen in YOY variance with inventory levels up 43.04% from December 2021.
Used semitrailer asking values trended down in December, decreasing 3.24% M/M and 4.38% YOY. Prior to December, it had been two years since asking values decreased on a YOY basis.
Auction values dropped 2.65% M/M and have now displayed consecutive months of decreases. Semitrailer auction values were also down 19.68% YOY.
U.S. Used Medium-Duty Trucks
Used medium-duty truck inventory is trending upward; levels increased 5.28% M/M and 69.39% YOY in December.
Asking values held steady from November to December and were up 5.72% YOY.

Auction values for medium-duty trucks have trended down in recent months. The Sandhills EVI indicates auction values decreased 2.11% M/M and 6.54% YOY.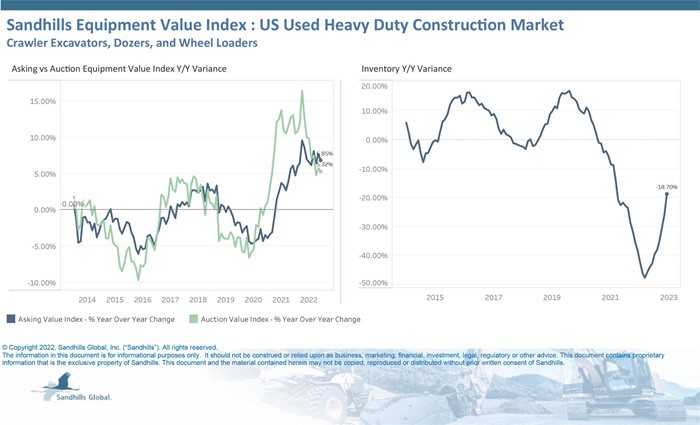 U.S. Used Heavy-Duty Construction Equipment
Inventory levels in heavy-duty construction equipment have remained steady since Q2 2022. In December, inventory levels increased 1.23% M/M and were down 18.7% YOY.
Asking values in this category are still elevated from last year; asking values were steady M/M from November to December but increased 6.85% YOY.
Auction values have trended sideways in recent months and gains were slight in December, increasing 0.7% M/M and 5.32% YOY.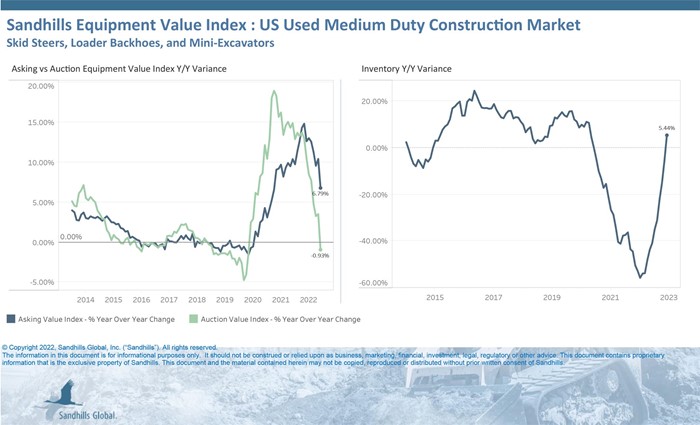 U.S. Used Medium-Duty Construction Equipment
Medium-duty construction inventory has exhibited little change overall since Q2 2022, though used mini excavator inventory has shown stronger recovery than the skid steer and loader backhoe equipment in this category.
In December, inventory decreased 2.24% M/M and increased 5.44% YOY; the latter marks the first YOY inventory gain in medium-duty construction equipment since Q3 2020.
Values have been trending lower in this category. Asking values were down 1.09% M/M and up 6.79% YOY.
Auction values decreased 1.51% M/M and 0.93% YOY. Prior to December, auction values hadn't decreased YOY since Q3 2020.
Obtain the Full Report
For more information, or to receive detailed analysis from Sandhills Global, contact us at [email protected].
About the Sandhills Equipment Value Index

The Sandhills Equipment Value Index (EVI) is a principal gauge of the estimated market values of used assets—both currently and over time—across the construction, agricultural, and commercial trucking industries represented by Sandhills Global marketplaces, including AuctionTime.com, TractorHouse.com, MachineryTrader.com, TruckPaper.com, and other industry-specific equipment platforms. Powered by FleetEvaluator, Sandhills' proprietary asset valuation tool, Sandhills EVI provides useful insights into the ever-changing supply-and-demand conditions for each industry.